106
Bev Oda vs KAIROS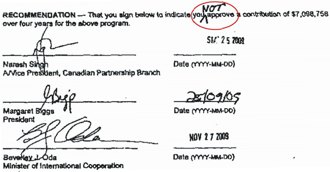 From March 29, 2011
Some people have a problem with Bev Oda.
Not because she withdrew funding from KAIROS, an established and effective humanitarian organization, for purely partisan reasons; Not because of her false statement in parliament that KAIROS' mission no longer met current CIDA priorities; and not because the actual CIDA recommendation was for the government to continue funding KAIROS but someone scrawled the word 'not' on to the already-signed funding document; and not because Oda claimed she had no idea who wrote 'not' on the document, but was then forced to admit that she had in fact ordered one of her staff to do it.
No—it's actually kinda because of all those things put together.
So visit the CBC website for a full timeline of events.
Then do what you can to defeat the Conservatives in Durham Ontario.