101
Stephen Harper's Use and Abuse of Canadian Culture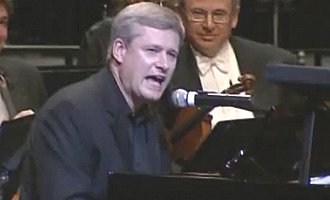 From October 4, 2010
While on the campaign trail in Saskatoon in September 2008, having just cut $45 million dollars from Canadian arts funding a few weeks earlier, Stephen Harper proved to an assembly of journalists that he just makes it up as he goes along:
"I think when ordinary working people come home, turn on the TV and see a gala of a bunch of people at, you know, a rich gala all subsidized by taxpayers claiming their subsidies aren't high enough, when they know those subsidies have actually gone up -- I'm not sure that's something that resonates with ordinary people."
In spite of the fact that most Canadian artists scrape by on near poverty-level wages, and ignoring that most of the supposed 'rich galas' are actually privately-supported fund-raisers that now have to make up for a large funding shortfall, and forgetting entirely that Canadians enjoy and appreciate Canadian TV shows, music, art, and culture, as well as the tremendous economic benefits of the industry — even if you miss all that, at best Stephen Harper is still a hypocrite who is perfectly happy to appear on Corner Gas and to sing Beatles tunes on a National Arts Centre gala stage when it suits his purposes, and then stab artists in the back when it actually matters.
Not surprisingly, his attitude on this (and many other issues) did not resonate with ordinary people, and he did not win the majority government he had sought — a win which had seemed almost certain just a few weeks earlier.
--
For more, please read Margaret Atwood's Globe and Mail article from Sep. 24, 2008.
Also, for your viewing pleasure, Eric Peterson (Corner Gas) speaks to a crowd in Toronto on Oct. 8, 2008, in the video below: